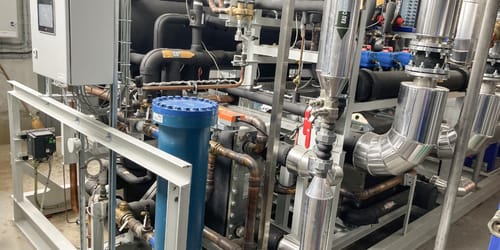 Freezing and chilling technology is crucial for maintaining the quality and freshness of products in various industries. Profroid offers innovative and energy-efficient solutions to ensure the perfect conditions for storing and transporting fresh foods or finished goods throughout the production process. We work with a wide range of spiral freezing and chilling providers to deliver resilient and cost-effective solutions that meet your specific needs.
As experts in CO2 refrigeration systems, we offer comprehensive guidance throughout your project. With our cutting-edge technology, we ensure that your system is reliable, energy-efficient and environmentally sustainable. Our solutions provide exceptional performance, reduced carbon footprint, and cost savings.
Profroid is a European leader in the development of CO2 refrigeration systems. We leverage our expertise to deliver customized solutions to meet your unique requirements. Our team of experts is dedicated to delivering superior results and ensuring your operations run smoothly. Contact Us today to find out how we can help optimize your freezing and chilling processes.