With more than 60 years of experience, PROFROID is a european leader in the manufacture of industrial and commercial refrigeration equipment using low GWP refrigerants. We are present in more than 50 countries around the world.
Our product range, unique in Europe, covers chillers, commercial and industrial condensing units, evaporators, condensers, air coolers, refrigerants and gas coolers as well as custom-made products adapted to your applications from 500 watt up to 1.5 Megawatt.
Since its creation, PROFROID has been constantly innovating to provide the best products with the latest technologies. We are pioneers in the design of CO2 racks. Our CO2OLtec®Evo technology is the subject of more than 40 patents.
PROFROID was the first manufacturer to deliver 10 000 CO2 mechincal systems in Europe.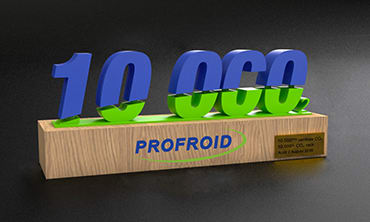 PROFROID is also a tailor-made support thanks to our team of experts to help you throughout the life cycle of your project (commissioning, training, assistance).
We offer innovative products oriented towards energy savings and using the most environmentally friendly refrigerants.
We have developed a complete range of solutions using the natural fluid CO2 in compliance with the European F-Gas directive, guaranteeing a minimum impact on global warming and the ozone layer.
PROFROID being attentive to the market and its evolution, we are continuously developing our ranges. To do so, we regularly carry out feasibility studies such as the one currently in progress concerning the use of synthetic refrigerants in our products.
From our production site, our commitment is to deliver industrial quality products based on global certification, equipment conformity (CE and DESP) and performance (ENV327) without forgetting numerous factory tests. Making reactivity a line of force, our teams do everything possible to guarantee you the best services and products.