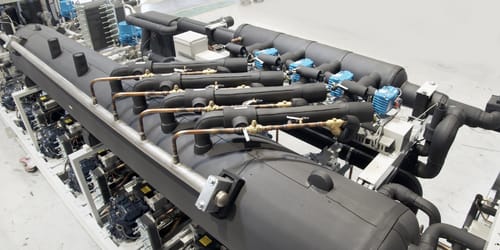 The food and drinks manufacturing industry covers a wide range of sectors, each with their own unique business and technological requirements. From meat, poultry, and fish to fruits and vegetables, dairies, and slaughterhouses, a reliable and efficient cooling and heating system is vital to ensure the quality and safety of the end product. Profroid has the expertise to provide sustainable and flexible solutions that meet the specific needs of your industry, from low-temperature freezing to high-temperature heating.
At Profroid, we understand that system reliability and uptime are critical to the success of your business. That's why we offer a range of remote and on-site services to ensure that your cooling and heating systems operate at peak performance, maximizing your operational efficiency. Our solutions are energy efficient, sustainable, and designed to meet the evolving needs of the food and drinks manufacturing industry.
With our market-leading knowledge and extensive experience in the cooling and heating markets, we can help you achieve your project goals. Consider Profroid as an essential ingredient in your recipe for success. Contact Us today to learn more about our innovative solutions for the food and drinks manufacturing industry.