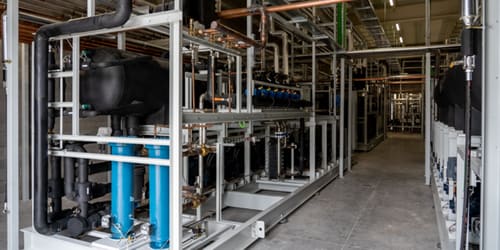 Profroid is a leading supplier of high-efficiency refrigeration, heating, and cooling systems and services for the industrial market. With over 20,000 CO2 systems in operation, we have pioneered the use of CO2 refrigeration and continue to lead the market's technological advancements. Our advanced manufacturing processes, patented components, and new materials make CO2 an efficient technology for a wide range of applications, including distribution centers, cold storage, food processing, pharmaceutical and process, district heating, leisure facilities, hospitals, and district heating.
We offer a vast range of systems to support our clients and customers, from stand-alone refrigeration systems to complex heating and cooling solutions. Our team of industrial specialists provides customized solutions to manage energy consumption, provide lifecycle solutions, and ensure projects are delivered using the most optimum solutions based on the real needs and requirements of the customers. Our solutions are not only energy-efficient, but also environmentally friendly, as we use natural refrigerants to protect the environment.
To learn how Profroid can help you with your refrigeration, heating, and cooling needs, please contact us below. Our team is dedicated to delivering innovative and sustainable solutions for the industrial market.