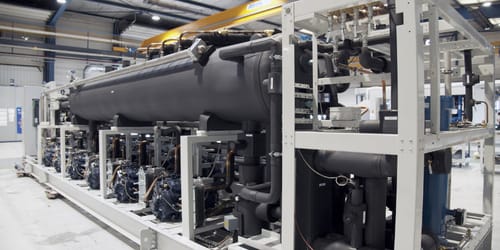 As Europe's focus on sustainability intensifies, there is an urgent need to accelerate the way we generate heat across all sectors. Traditional gas-fired appliances have a significant environmental impact, which is why Profroid has developed a range of CO2 heat pumps to support European efforts to decarbonise and electrify heat generation for various applications.
Profroid's CO2 heat pumps are designed with the most natural and versatile refrigerant and have the lowest possible impact on the environment. They can deliver between one and three temperatures simultaneously, up to 90°C, making them suitable for a broad range of applications, including district heating and replacement of gas-fired appliances. Our heat pumps are available from 40kW through to 2.2MW in a single unit.
If you have a heating demand and want to decarbonise, Profroid's CO2 heat pumps are the most sustainable solution. Contact Us today to learn more about our cutting-edge products and services and how we can help your business thrive while minimizing your environmental impact.