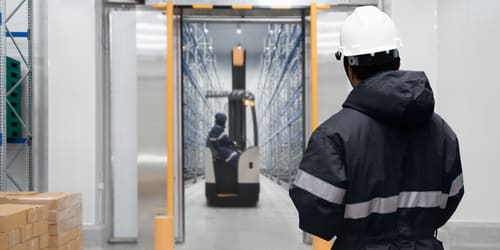 As the demand for cold storage and distribution continues to rise, the need for sustainable and innovative solutions that allow for better control and management of energy consumption becomes increasingly important. At Profroid, we are experts in the cold chain sector and specialize in optimizing performance and energy use while remaining flexible across your facility.
Our team of specialists can assist you throughout the entire process, from design to delivery and operation, to ensure that your systems deliver the lowest lifecycle and operational costs. We understand the importance of minimizing your carbon impact, and our use of natural CO2 refrigerants ensures that you can achieve this.
Refrigeration systems are responsible for over 90% of the energy consumed within a cold storage distribution center, but with Profroid's expertise, you can have confidence that you are receiving the most efficient and sustainable solutions available. Contact Us today to learn more about how we can support your cold storage and distribution needs.